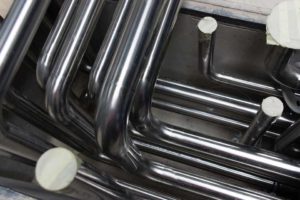 When you're an OEM or service center ordering tube and bar products, you won't stay in business long if you accept anything less than perfection on every order. And while you're at it, you'll have a hard time growing your business if you cut into your already thin profit margins by paying too much for parts!
Fortunately, at Central Tube and Bar, we specialize in delivering custom manufactured parts to our clients' exact specifications, and we're standing by to build the parts that you need on your schedule, and within your budget! We offer premium CNC fabrication services at value prices, and zero-defect quality on every order. Here are a few of the services that we have to offer:
Sawing and Shearing-We offer precision metal cutting on tubes and solid bars up to 24" in diameter. Our service centers are equipped with an optimum mix of precision machines that gives us the flexibility to do miter cutting, bundle cutting and trim cutting on round, square, and rectangular tubes and bars. We can also automate the process, which helps us fill large orders more quickly, and at a lower cost.
CNC Bending-Our multi radius bending services can provide reliable, repeatable. multi-axis precision bending of oval, rectangular and extruded shapes from a 0.250″ aluminum tube to a 1.5″ solid steel bar. Our multi bend tube bender machines are equipped with advanced features like weld seam and etch mark detection that facilitates perfect part orientation, and helps us expedite setup and production of intricate, multi-bend geometries.
Value Design Services-We've been in business for over two decades, and have performed tens of thousands of production runs. That's why we believe in consulting with our clients before each production run. We can often find simple design modifications that can improve on a part's efficiency, and lower its manufacturing costs.
At CTB, we believe in creating lifetime partnerships with OEMs and service centers, and every member of our team has the power to do whatever it takes to make sure that every order is perfect! We owe our success to large amounts of repeat business, and we're ready to make you our next satisfied customer! If you have any questions, or if you're ready to place an order, contact us online, or at 501-450-7750.