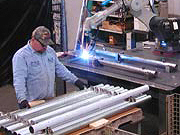 If you're an Original Equipment Manufacturer (OEM) that's in the market for tube laser cutting services, you can't serve your clients properly if you settle for anything less than perfection! You have the right to insist on a company that can manufacture and deliver the custom tube products that you require on your schedule, and on your budget.
Central Tube and Bar is proud to have a full line of machines that lead the industry in speed, precision, and versatility. We have multiple CNC machines that are capable of 3D cutting, etching, or beveling/chamfering with pinpoint accuracy, no matter the size of the tubes, and no matter what materials they're made from. But it doesn't stop there! Here are a few of the reasons that the OEMs that we work with keep coming back:
Speed
Our equipment is quick and easy to set up, and capable of performing multiple precision operations in a single run. This is a big advantage over other companies that require multiple machines to build prototypes. You can place your order with confidence, and you'll never have to worry about missing a deadline again!
Accuracy
Our machines are capable of laser cutting tube from ½" to 16" diameter and can work with carbon, stainless, or aluminum. No matter how large of an order that you place, you can always count on consistency and uniformity with every part that we fabricate.
Customer Service
At CTB, when we say that we believe in adding value to our people, products, and partners, it's not just a slogan. Over the years, we've enjoyed large amounts of repeat and referral business, because we put our clients first, and offer a 100% satisfaction guarantee on all orders!
CTB is a company that OEMs have been trusting for 20 years and counting, and we're ready to fabricate the parts that you need, and add you to our long list of repeat customers. If you have any questions, or would like to get an estimate, click here, or give us a call at 501-450-7750.