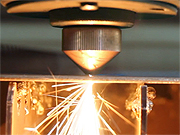 When it comes to bar and tube laser processing, there's no such thing as "almost" or "close enough". We know that the fabricators and OEMs that we supply need precision parts to assemble precision equipment, and they need those parts manufactured in days, not weeks.
At Central Tube and Bar, we're proud to be an industry leader in flat laser processing, which offers unrivaled productivity. If you need 3D cutting, beveling/chamfering, or etching, we have the CNC tube lasers that can cut or etch any tube or bar with pinpoint accuracy, no matter what size or material composition. Our machines lead the industry in speed, precision, and versatility, and this means that we can deliver the tube and bar products that you need on your schedule, and at a price that you can afford.
Some companies still require 2 or 3 machines (or manual operators) to build prototypes or make an extended production run, but our equipment is quick and easy to set up, and capable of performing multiple precision operations in a single run. And you can always count on consistency in every part that we fabricate: whether it's the first piece in the production run, or the hundredth, every cut or etching will be exactly the same.
We have multiple models of tube lasers at our shop, and can work with carbon steel, stainless steel, or aluminum. Our machines can cut round tubes and bars from .50" to 16", square tubes and bars from .50" to 11.5", and rectangular tubes and bars up to 11" square. And for true one-stop shopping, we also operate a Mitsubishi ML3015ex 4000 watt flat table laser to complement our tube laser capability with precision sheet metal parts that will join seamlessly with our tube fabrications.
CTB believes in adding value to our people, products, and partners. We've been in continuous operation since 1996, and owe our success to numerous quality partnerships with manufacturers throughout the mid-south. If you have any questions, or would like to get an estimate, click here, or give us a call at (501) 450-7750. We're ready to fabricate the parts that you need, and your satisfaction is always guaranteed!