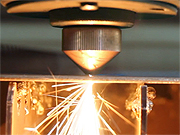 In the late 1970s, manufacturers quickly learned that surviving in the era of increasing competition meant finding ways to improve profitability without raising prices. They knew that they needed to manufacture their products more cheaply, but without sacrificing quality. They decided to take a process-oriented approach to solve the problem, and over time, this approach became known as lean manufacturing. Lean manufacturing has become standard operating procedure at thousands of companies, and it's hard to dispute its success.
Our team at Central Tube And Bar has been providing top quality CNC bending, bar and tube bending, and laser cutting services for two decades, and we want to partner with your OEM or service center to produce the parts that you need. To complement your manufacturing facility's lean manufacturing efforts, we offer Just-In-Time (JIT) delivery on all orders. Not only that, we've learned a lot about lean manufacturing over the years, and we're happy to offer our expertise to our clients at no additional cost. Contact us to schedule a consultation at any time, and we'll work through the following steps with you to help improve your bottom line:
Step one: break down each job/procedure into a series of observable steps – This is usually pretty easy, but many manufacturers initially find it a little challenging to write down each step of procedures that they do frequently. Your team should leave no stone unturned, and no detail is unimportant.
Step two: examine each step in detail – Now that you have your data, look at it together, and search for procedures that waste time or resources, and find ways to improve. Your line operators should be allowed to speak their mind at all times, and the focus should be on constant improvement.
Step three: implement the new procedures and monitor the results – You shouldn't implement too many changes at once, and you should always reserve judgment on a change's success or failure until you've implemented it enough times to make an informed decision.
Lean manufacturing is a great way to pull a team together, and it's amazing what a difference small improvements can make if you make enough of them. If you have questions about lean manufacturing, contact us online, or give us a call at (501) 450-7750.