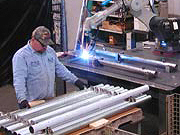 Manufacturing precision metal parts requires precision equipment, and precision design. As the market matures for products, it becomes increasingly important to manufacture them faster and cheaper.
Lean manufacturing refers to the practice of eliminating wasted time, resources, and materials as a way of streamlining the manufacturing proces. The concept of using a process-oriented approach to manufacturing became popular in the Japanese auto industry during the 1970s and 1980s, and since then, those systems have been put into widespread usage in numerous industries. The overall goal of lean manufacturing is finding and eliminating waste in the process by looking closely at each individual step. If something wastes time, creates bottlenecks, or unduly burdens employees on the line, the whole team works together to find ways to improve on the process. And even a small victory is a victory, as shaving seconds from each individual step can result in average process times begin cut by many minutes.
One important component of lean manufacturing is Just-in-Time (JIT) delivery. With a JIT system, Original Equipment Manufacturers (OEMs) coordinate with their suppliers to receive deliveries at the beginning of each production run so that they don't have the expense of storing parts or raw materials. JIT systems offer the ultimate in efficiency for OEMs, but they require companies to be highly organized with their ordering systems, and they require suppliers to deliver the materials on time, every time.
At Central Tube and Bar, we've been providing quality CNC bending services and CNC laser cutting services for two decades and counting, and we specialize in JIT delivery. Our state-of-the-art equipment offers lightning fast turnaround times, and we specialize in offering our clients zero-defect precision on all orders.
We also offer value design services for every client: we'll look at your blueprints together and see if we can make any recommendations that will help us get the job done for you more quickly, or at a lower cost. Once we've finalized the design, we'll work out the delivery schedule, and you'll have the parts that you need, when you need them.
JIT delivery has revolutionized manufacturing, and it's a great way for an OEM to run a tighter ship. If you have any questions about how to set up JIT systems at your company, or if you're ready to place an order, contact us online or at (501) 450-7750.